Vijayapura: Lush green fields all around. A farmer removing the ear of corn. On the other side, the villagers are smacking their mouths. This kind of unique tradition (Faremrs Festival) was found in the corn field of Gummata Nagar (Vijayapura News).
Sitani harvest celebration

Yes, bringing and burning the greens of the corn on the stalk is a festive celebration for the people of Vijayapur. If you burn and eat raw corn kernels before the corn kernels dry, it will give you peace of mind, good for your health, and coolness for your body. This is called the Sitani harvest festival.
From your district (Vijaypur)
Such a ritual was celebrated in the farm of Girish Thotagi, a progressive farmer of Muttagi village in Basavanbagewadi taluk.
A special celebration

As the winter ends and the summer begins, there is a shortage of milkweeds in the corn-sown fields. At this time, the people of North Karnataka, including Vijayapura and Bagalkote, go to this Sitani. This festival used to be called Sihi Tene by the ancestors. At present people in this area are hearing the word Sitani.
Such is the Sitani ritual

It is customary for the people of Vijayapur district to celebrate Sithani as harvest in the month of March. Farmers in this region mostly sow white maize. Hence Vijayapur district also got the name of white corn wasp. In the month of February, the corn crop has grown to a height of 100 meters and is full of honey.
Also read: Success Story: 40 thousand expenses, one and a half lakh income! This crop is filling pockets
Before the corn kernels dry, the farmers harvest the fresh corn kernels from the farm and burn them. Everyone eats this and celebrates this Sitani festival.
Eat sitani

Farmers invite their neighbors along with family and friends for this festival. Before this, a small pit is dug in the middle of the field, wood and sticks are put in it and a fire is lit. In the same fire, they put raw kernels of corn and burn them for some time, put them in a gunny bag and beat them with a hammer to separate the kernels. After that, they gather the burdened neighbors who have arrived together and give them sitani along with pickled nuts and peanuts.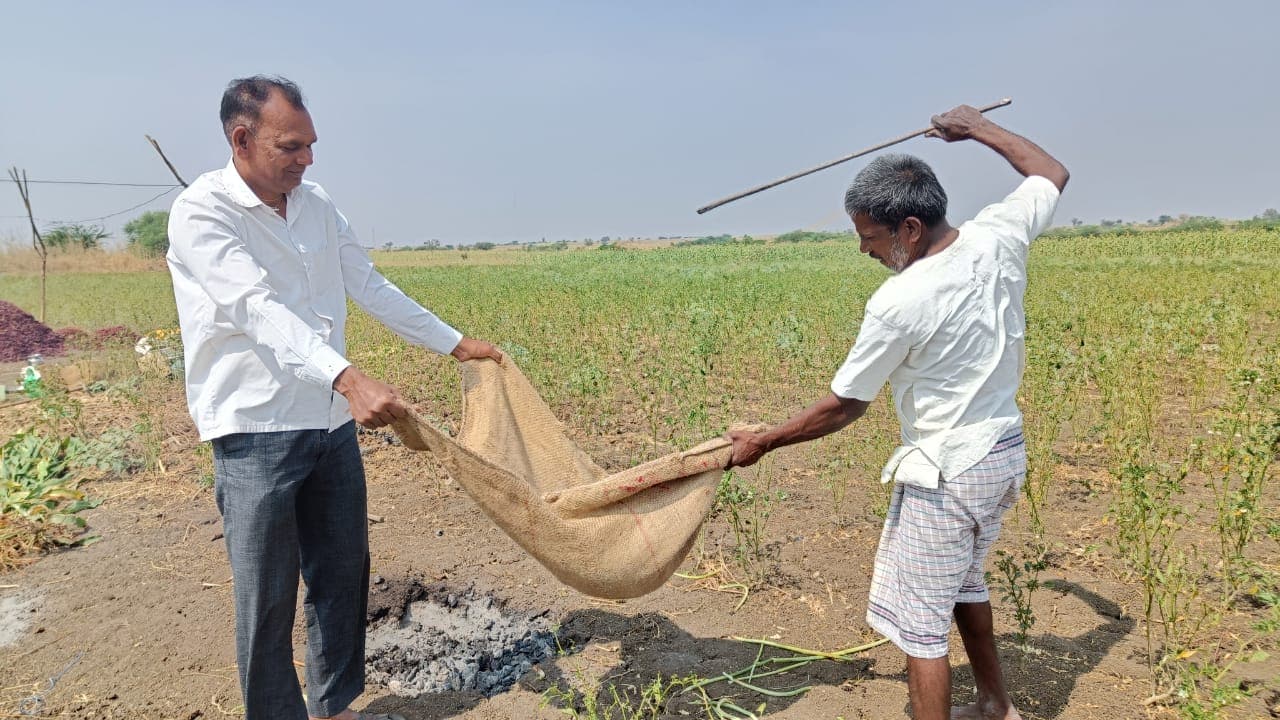 Also Read: Vijayapura: Children who grow up nameless for a whole year!
Overall, Sitani festival is special for the people of North Karnataka to introduce the togetherness of agriculture along with sweets.
Report: Prashantha Hoogar, News18 Kannada Digital, Vijayapura