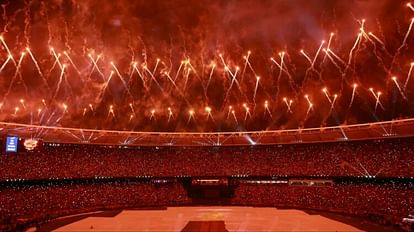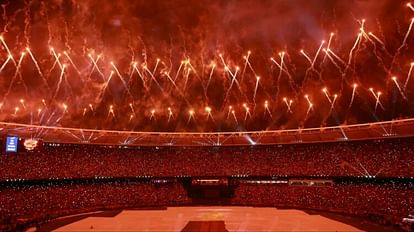 Narendra Modi Stadium, Ahmedabad
Photo: IPL/BCCI
Expansion
The Cricket World Cup is to begin in India on October 5. Before that, the inauguration ceremony can be organized on October 4 at the Narendra Modi Stadium in Ahmedabad. Bollywood stars can take part in this colorful event. The captains of all the 10 teams will also be present there on that day. The next day, the first match of the tournament will be between defending champions England and New Zealand, the losing team in the final of the last World Cup.
The warm-up matches for the World Cup will end on October 3. According to media reports, all the captains will assemble in Ahmedabad after the warm-up match is over. Will interact with all the media and get photographed. This is known as 'Captain's Day'. After this, all the captains will participate in the opening ceremony in the evening. The final match of the World Cup will also be played in Ahmedabad on 19 November.
Six captains will be busy a day before the opening ceremony
Members of the International Cricket Council (ICC), members of the global cricket governing body's executive board and representatives of the Board of Control for Cricket in India (BCCI) will be present on the occasion. Just a day before the opening ceremony, six of the 10 captains will be very busy. India will compete against Netherlands. At the same time, Pakistan will face Australia and Sri Lanka will face Afghanistan. In such a situation, the captains of these six teams will have to fly to Ahmedabad after the match or early in the morning the next day.
Matches to be held in 10 cities of India
A total of 58 matches will be played in the World Cup. These include 10 practice matches. World Cup matches will be played in 10 cities of India. There are matches in Hyderabad, Ahmedabad, Dharamshala, Delhi, Chennai, Lucknow, Pune, Bengaluru, Mumbai and Kolkata. Apart from Guwahati and Thiruvananthapuram, practice matches will be held in Hyderabad.
Sri Lanka and Netherlands got entry from qualifiers
A total of 10 teams will participate in this World Cup. Teams from Sri Lanka and Netherlands have reached this tournament as qualifiers. Apart from these two, the teams of host India, New Zealand, England, Australia, Bangladesh, Pakistan and Afghanistan will be seen in the World Cup.