Veeramahanta Shivacharya Swamiji of Hiremath, Doranahalli, Yadagiri district collapsed at Bangalore railway station and passed away.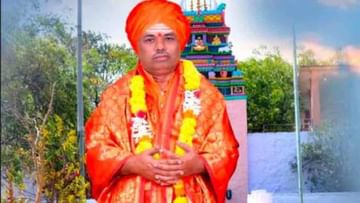 Veeramahanta Shivacharya Shri of Doranahalli Math
Bangalore: Veermahant Shivacharya Swamiji of Hiremath, Doranahalli, Shahapura taluk, Yadgiri district is bisexual. While returning from Bangalore to Yadagir, today (January 11) at Cantonment railway station (cantonment railway station), he suddenly collapsed and succumbed to heart attack.
He had planned his 25th jubilee in the next month. He had come to Bangalore to invite dignitaries for this event. Today, they have arrived at Bangalore Cantonment Railway Station to return to Yadagiri. Swamiji suddenly collapsed while walking in the railway station. The devotees immediately tried to rush him to the hospital. However, Swamiji left this world on the way.
Doranahalli Hire Math of Shahpur taluk is a branch Math of Rambhapuri Peetha, history and heritage, Jagat Shakti of Mahantheshwar have sanctified the public attention of this part, Math is recognized in the country for its religious as well as social activities.
Shreemath has grown up with its regular religious activities from the time of Mahantheshwara, the cave heritage hill of Shivamsa Sambhuta in Sagaranadi, known as World God, Mahima Purusha around 15th century.